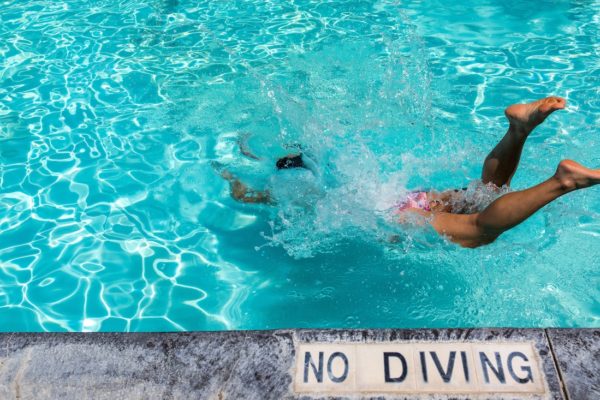 Poorly monitored pool chemistry and unmarked safety measures can be a huge liability for commercial pool owners. The safety and accessibility of your pool cannot and should not be overlooked in your regularly scheduled pool maintenance. However, to sustain the quality and safety standards of a commercial pool requires constant monitoring and adjusting. Selecting swimming pool supplies that you can depend on and that fits your needs will make this process less time consuming.
For Top Notch Safety & Accessibility
Pool safety and accessibility equipment should be updated and in plain sight at all times to meet regulations for commercial properties. The following items are critical for all gym, hospitality, and community facilities. 
Life Saving Equipment:Required safety equipment for commercial swimming pools includes life hooks, rings and ropes that should be updated and in good shape. Pools with lifeguards should also have chairs or stands that elevate the individual for proper monitoring of the pool area. 
Depth Markers & Signs: State codes demand legible pool depth markers and safety signs to enforce pool rules, post warnings, and prevent dangerous diving. Over time this signage will experience wear and tear that will need to be addressed by replacing or cleaning the items to ensure all guests are properly  informed at all times.
Pool Alarms:

Pool entry or gate alarms diminish unmonitored swimming pool accidents. During maintenance or closures, installing and activating these alarms are highly recommended for top notch safety at commercial pool facilities. 

Access Lifts: ADA compliance regulations require safe accessibility at commercial pools for all people, including those with disabilities. A pool access lift accommodates entry to your pool for all individuals. Portable or fixed options are available depending on preference and state requirements.
Beyond these safety equipment essentials, there are also critical commercial swimming pool supplies you will need to adhere to CDC (Center for Disease Control) regulations on the safety and sanitation of your pool's water.
For Water Safety & Sanitation
Pool temperature, chemical balance, and sanitary quality of the water should always be a top priority. Not only can improperly monitored water chemicals lead to unnecessary wear and tear on your pool, cloudy water can poorly represent your company's attention to safety and cleanliness. The odor and water's appearance can either invite or repel swimmers. Guarantee safe and enjoyable swimming conditions with these essential swimming pool products to monitor your water.
Chlorinators:To maintain a proper chemical balance in the water, there are many automated chemical feeder and controller options including various tablet feeders or liquid pumps. When selecting a chlorinator take into consideration that liquid chlorine requires persistent testing and adjustments. Tablets are the most popular selection, but you'll need to monitor and clean the valve as debris can affect proper absorption and consistency.
Sunset Tip:  If you have a floating chlorinator, we recommend investing in a new system as these can be dangerous for small children and become a liability.
Chlorine Alternatives:Even if you're used to one of the above chlorinators, you should supplement your process with a mineral or saltwater generator to save money and time on chlorine maintenance. Saltwater systems create chlorine on a needed basis eliminating the need to constantly add chemicals to your water. Also, products like Nature 2 Parts and Pool Frog provide a mineral purifying system that can reduce chlorine needs by 50%.
Chemical Test Kit: Water strips, digital pool testers or a liquid kit should be a part of your daily practice in checking the chemical levels are safe for guests. A pH level that is too high or low not only affects swimmers, but will also impact the wear and tear on your pool equipment and surfaces. Test strips are simple and easy to use, but liquid and digital tester kits often provide a more detailed analysis.
Pool Shock Supplies: In the event the chlorine levels drop too low, it is crucial to have pool shocking supplies at hand to manually raise the chlorine to safe and sanitary conditions. This will come in handy after a heavy rain, a busy pool day, or to remove algae or waste/bacteria. If you notice any discoloration to the clarity of your water, shocking the pool will balance the chemistry of your pool chemicals.
Pool Thermometer: It may seem obvious, but a pool thermometer is certainly an essential element of your pool care. Not just for your guests comfort but for safe water conditions. Proper temperature of the water will assist with maintaining a consistent chlorine and chemical balance of the water for safe swimming conditions and diminish algae build up on your pool equipment and surfaces.
Using these essential swimming pool products will ensure safe swimming conditions and accessibility for your commercial pool so guests can enjoy their swim. In addition to meeting safety standards, a clean pool can be obtained with experts tips on selecting the right Commercial Pool Cleaning Supplies.