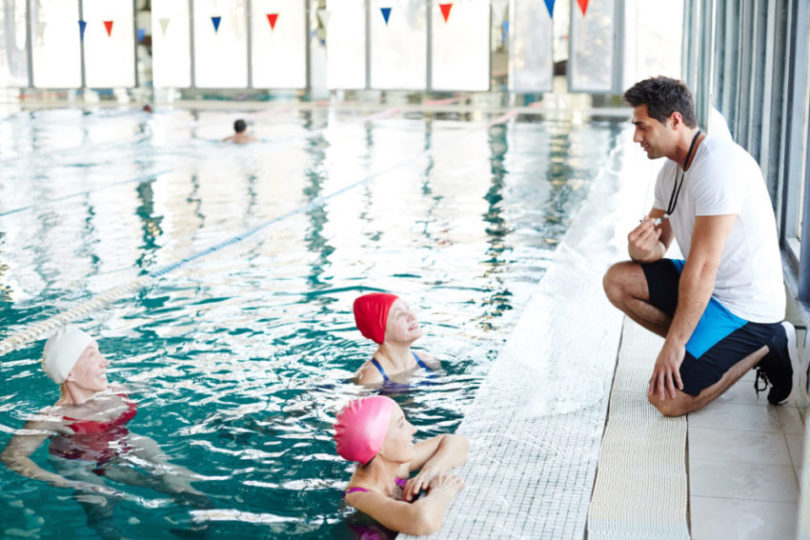 Designing a public commercial carries with it a whole set of requirements that the fanciest residential pools don't have. Commercial pools are typically designed and built on a much larger scale than residential pools, and they're often geared to a variety of guests. While some public pools are designed in a basic manner, most need to take into account the surrounding architecture, the facility uses, and guest activities. Commercial swimming pool design and construction must adhere to all federal rules and regulations.
Build Out Facility Programming
Unlike in the residential setting, commercial pool's often feature facilities that offer a broad array of activities for its guests. These activities can range diving to volleyball, and anything in between. When designing your pool, make a list of all programming that your facility will offer. This will help to guide the conversation and the planning of your pool. For example, if your facility carries activities for kids, there's a good chance that you'll want to design a pool with plenty of shallow areas. Let's take a deeper dive into how to determine the shape and size of your commercial pool.
Planning the Size & Shape of your Commercial Pool
Once you have a programming guide laid out, you can decide if your pool will be used for recreation, teaching, competition, or diving. You also may decide that your facility will not be just one of these, but will need to be a multipurpose facility. Understanding your pools uses helps to guide your decisions when determining the size and shape of your facility's commercial pool.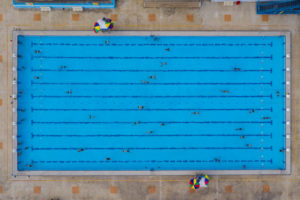 Keeping the Water Moving
Commercial pools tend to attract more people due to their size and activity offerings. Pool Circulation is critical–and becomes even more important with additional people using the pool–to maintaining the water quality, proper chemical mixture, and mitigating bacterial growth in your facility pool. 
When choosing a water circulation setup, it is important to go with quality, reliability, and proper size for your commercial pool. If the proper setup isn't chosen, the water quality will likely be subpar no matter hard you work to maintain it. 
Choosing a Commercial Pool Filtration System 
Another important part to consider when designing a commercial pool is water filtration. A pool filtration system offers a way to rid your pool of debris and more granular contaminants. There are three filtration systems that are commonly used in commercial pools. Let's explore each of these, along with their distinct benefits.
Cartridge Filtration

–commonly used in a variety of pool applications, commercial cartridge pool filters offer high-quality filtration. These filters also limit pool water consumption and are very easy to clean. Cleaning the filter is simple and done by spraying the filter with a hose and freeing particles from the filter. Cartridge pool filters can be used many times before you need to throw them away.

DE Filtration

–commonly regarded as the most powerful type of pool filter, the DE filter offers superior filtration of pool water. If you choose a DE filter for your commercial pool, there are a few things to consider, such as pool size, pool type, and whether you're up to the maintenance and upkeep involved.

Sand Filtration–

A sand filtration system involves a tank of sand that catches debris as water passes through it. The sand holds the debris and prevents it from returning to the main pool body of water. 
Choose an Interior Pool Liner 
Choosing an interior lining for your commercial pool is just as important as the previous steps. The interior is typically the first thing you will need to replace if you skimp on your pool lining. There are typically four main types of interior linings, plaster, paint, pvc membrane, and tile.
Commercial Pool Design Done Right
Following these 5 steps when planning a commercial pool will ensure your facility and guests have the necessary accommodations to comfortably use the pool for its intended purpose. For additional recommendations on commercial pool planning, pool safety, or proper pool chemicals, get in touch with our team of experts at Sunset Pools & Spas.